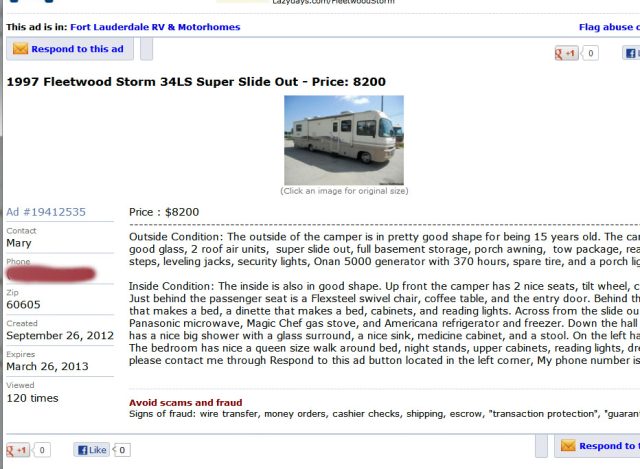 On October 1, an unnamed person in Massachusetts received an e-mailed response to an inquiry about a 1997 Fleetwood Storm motor home advertised on eBay Motors for $8,200—less than half the price most dealers charge for a comparable vehicle.
"The motor home was my husbands [sic] as he loved it very much, but he did not enjoy it so much as he died in IRAQ a few months ago," the seller,  one Mary Carter, wrote in the e-mail. "It brings very bad memories to me and I want to get rid of it as soon as possible. I'm a single mother with 2 children and now I have some problems with the money and need to move as soon as possible and that's why I'm selling it so cheap."
Two days later, the Massachusetts-based buyer received an e-mail from what appeared to be an eBay Motors address bearing the well-recognized eBay logo. It contained an invoice and instructions for transferring the $8,200 to the seller's Citibank account. A day after that, 43-year-old Romanian national Nicolae Ghebosila used a Yahoo mail account to direct a US-based associate to withdraw the money and wire it overseas.
Read 13 remaining paragraphs | Comments