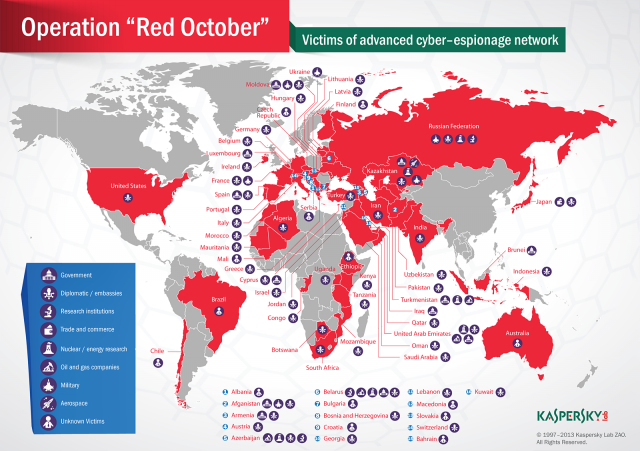 Researchers have uncovered an ongoing, large-scale computer espionage network that's targeting hundreds of diplomatic, governmental, and scientific organizations in at least 39 countries, including the Russian Federation, Iran, and the United States.
Operation Red October, as researchers from antivirus provider Kaspersky Lab have dubbed the highly coordinated campaign, has been active since 2007, raising the possibility it has already siphoned up hundreds of terabytes of sensitive information. It uses more than 1,000 distinct modules that have never been seen before to customize attack profiles for each victim. Among other things, components target individual PCs, networking equipment from Cisco Systems, and smartphones from Apple, Microsoft, and Nokia. The attack also features a network of command-and-control servers with a complexity that rivals that used by the Flame espionage malware that targeted Iran.
"This is a pretty glaring example of a multiyear cyber espionage campaign," Kaspersky Lab expert Kurt Baumgartner told Ars. "We haven't seen these sorts of modules being distributed, so the customized approach to attacking individual victims is something we haven't seen before at this level."
Read 13 remaining paragraphs | Comments