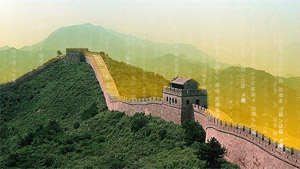 How did security firm Mandiant put names to two previously unknown Chinese hackers who, it says, steal American corporate secrets for the Chinese government? With a little inadvertent help from Anonymous.
Mandiant's 74-page report covers a particular hacking group referred to as "APT1" and contends that the group works for or under the direction of the Chinese government as part of the military's secretive "Unit 61398." The report ties a huge string of hacks over the last few years to Unit 61398 and goes on to show the building where the hacks might be hatched. The report is stuffed with detail uncommon in these types of stories, and even includes a translated Chinese document showing a local telecom company agreeing to Unit 61398's request for additional fiber optic connections in the name of state security.
The Mandiant researchers then tried to go one step further, putting at least a few real names to the coders involved. (BusinessWeek recently did something similar, with fascinating results.) Mandiant began with a malware coder who goes by the name "UglyGorilla"—a name which is left repeatedly in code tied to the APT1 group.
Read 7 remaining paragraphs | Comments