Apple has finally responded to increasing online security threats by introducing two-step authentication for iCloud. Like Google and other companies that already employ two-step authentication, Apple's system would provide an extra layer of security on top of the existing iCloud passwords when users try to access their accounts from unrecognized devices. iCloud users can set up two-step authentication on Apple IDs today by going to the Apple ID website and clicking the "Password and Security" tab.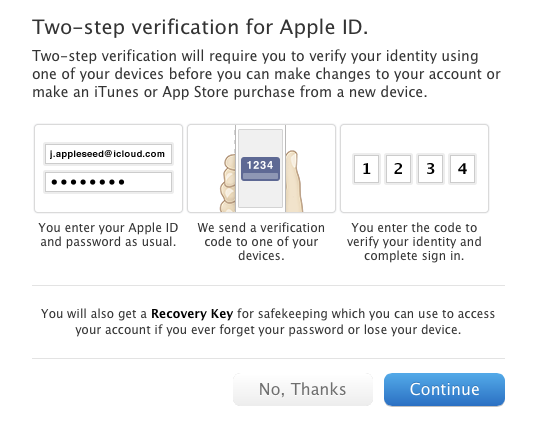 For Apple, this means an authentication code is either sent via SMS to a phone number or found within the Find My iPhone app (if you have it installed) whenever you try to log in from somewhere new. This means that a potential attacker will have a harder time getting into your iCloud account without having physical access to your "trusted" device receiving the code. (Users are prompted to set up at least one trusted device when they turn on two-step authentication, though you can have more than one if you like.) Currently, two-step authentication is available to iCloud users in the US, UK, Australia, Ireland, and New Zealand.
One of the benefits to setting this up on your iCloud account is that you'll no longer have to rely on security questions—which are inherently insecure—in order to gain access to your account if you lose your password. The downside (if you consider it that) is that once you set up two-step authentication, Apple will no longer be able to reset your password for you should you lose or forget it. This is what ended up biting Wired editor Mat Honan in the behind when his various accounts were compromised—hackers were able to gather enough personal information from Honan's e-mail and Amazon accounts to trick Apple support into resetting his iCloud password, giving them free reign to remotely wipe his iPhone, iPad, and MacBook.
Read 1 remaining paragraphs | Comments