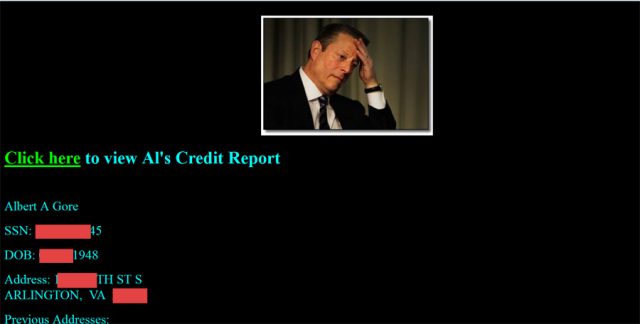 Details from some of the famous identity-theft victims whose personal information was mysteriously published online were fraudulently obtained from a government-mandated website designed to make it easy for consumers to access their credit reports, credit agency officials said.
At least four of the high-profile celebrities and political figures—who include Vice President Joe Biden, FBI Director Robert Mueller, Attorney General Eric Holder, and rap star Jay Z—were "accessed inappropriately" from annualcreditreport.com, a spokesman for credit agency Equifax told Ars. The site allows consumers to obtain a free copy of their credit reports by entering their birth dates, Social Security numbers, and home addresses and then answering several multiple-choice questions involving previous addresses, mortgages or loans taken out, and similar types of information. Once someone provides the correct answers, he gets access to a report providing a wealth of additional personal information, including loan and mortgage details, phone numbers, and previous addresses.
"What it appears happened is that personal identifiable information was evidently accessed or somehow obtained by the fraudsters who therefore were able to go into annualcreditreport.com and get some pieces of information on some individuals," Equifax spokesman Tim Klein said in an interview. "It's four individuals that we can confirm that were accessed inappropriately by fraudsters by going through annualcreditreport.com and procuring some information off their Equifax credit report."
Read 7 remaining paragraphs | Comments