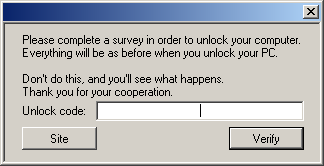 If your PC's CD tray opens and you hear the iconic, five-note tune from the movie Close Encounters of the Third Kind, it's probably not a visit from aliens. Chances are it's a newly discovered piece of malware with some highly unusual characteristics.
Trojan.Shadowlock belongs to a category of malicious software known as ransomware, which typically locks down data and resources until the victim pays a hefty fee. But in this case, according to Symantec researchers, the malware demands the user of the disabled computer complete an online survey.
Shadowlock isn't as nasty as other ransomware samples that threaten criminal prosecutions based on trumped up charges and then extort fees that can be in the hundreds of dollars. That's because this latest threat, which was created with Microsoft's .Net developer tool, can be easily bypassed. Still, it contains several dormant functions that could be invoked in future versions. The ability to kill Chrome, Internet Explorer, and other browsers is one capability. Eating up disk space and disabling the Windows firewall is another.
Read 1 remaining paragraphs | Comments