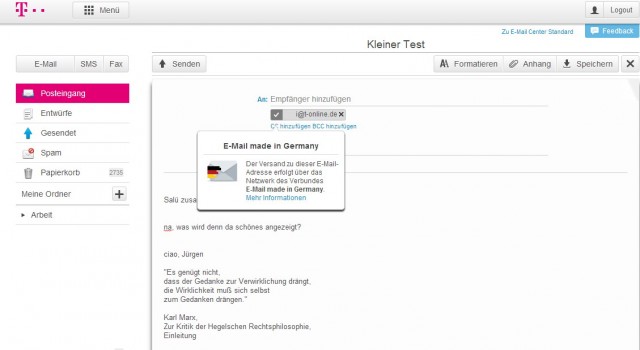 In the wake of the shutdown of two secure e-mail providers in the United States, three major German e-mail providers have banded together to say that they're stepping forward to fill the gap. There's just one problem: the three companies only provide security for e-mail in transit (in the form of SMTP TLS) and not actual secure data storage.
GMX, T-Online (a division of Deutsche Telekom), and Web.de—which serve two-thirds of German e-mail users—announced on Friday that data would be stored in Germany and the initiative would "automatically encrypt data over all transmission paths and offer peace of mind that data are handled in compliance with German data privacy laws." Starting immediately, users who use these e-mail services in-browser will have SMTP TLS enabled, and starting next year, these three e-mail providers will refuse to send all e-mails that do not have it enabled.
"Germans are deeply unsettled by the latest reports on the potential interception of communication data," said René Obermann, CEO of Deutsche Telekom, in a statement. "Our initiative is designed to counteract this concern and make e-mail communication throughout Germany more secure in general. Protection of the private sphere is a valuable commodity."
Read 8 remaining paragraphs | Comments