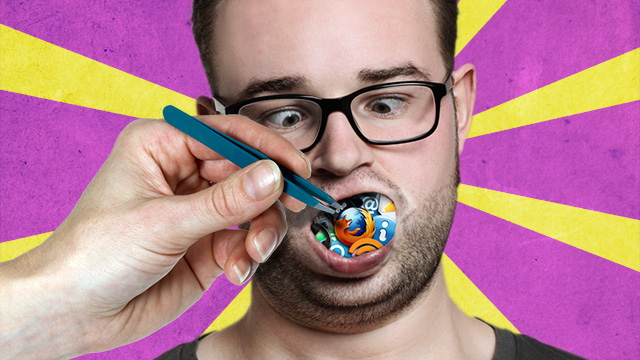 According to McAfee's 2008 The Web's Most Dangerous Search Terms, "free" fell into the highest search term risk category. And my previous search for free stuff on the Internet ended ugly. What did I do? I searched for free things, clicked the top links, and initiated the first download on each page. This—no surprise—led me to download a bunch of adware and malware, what McAfee coined as Potentially Unwanted Programs (PUPs). For instance, a search for "free music downloads" (the worst search query from round one) left my desktop littered with them. From my download notes and desktop count, I went from three to 19 programs while adding six Firefox plugins and 12 extensions that made my browser a cluttered array of toolbars and icons. My computer was dogged with PUPs—point proven. Now this was my mess to clean up. Could I do anything to fix my computer, and was it even worth it?
Installations from downloading "free music" results:
Six Firefox plugins: Conduit Plugin 7.0.0.3, Exent AOD Gecko Plugin 7.0.0.3, GameTreatWidget 8.1.57.0, Google Update 1.3.21.145, Microsoft Windows Media Player Firefox Plugin 1.0.0.8, Shockwave Flash 11.7.700.202

12 Firefox extensions: Default Tab 2.0, Frostwire Toolbar 12.42738, MixiDJ V30 10.16.300.3, Mp3skull Toolbar initial.rev194, New Tab 5.0.0.7281, QuickShare Widget 1.1, SavetheChildren App By We-Care.com 4.1.20.1, SearchDonkey 2.6.14, Search-Results Toolbar 1.2.0.0, SelectionLinks 1.5, Yahoo Toolbar 2.5.7.20130322105505, Yontoo 1.20.02

16 programs downloaded: BearShare, Torch (Internet Browser), 24x7 Help, Free Ride Games / 7 Wonders II, FrostWire 5.5.6, Google Drive, Groove-Stream, Adobe Flash, iTunes (didn't install; it was a 32-bit version on 64-bit Windows), iMesh, inTuneMP3, PC Fix Speed, PC Optimizer Pro, SpeedItup Free, The Weather Channel App, WeatherBug
I went searching for answers on the Internet and found hints but no conclusions. McAfee's white paper Potentially Unwanted Programs: Spyware and Adware, which dates back to 2005 when PUPs were on the rise, hinted at the worst. "Anecdotal evidence suggests that many home users and even system administrators periodically wipe out machines and reinstall from scratch or even buy completely new computers to rid them of spyware, adware, and other PUPs." But picking up where I left off, I decided to see for myself just how easy it was to restore my computer to its normal, pristine state… if it was possible at all.
Part I: Just how bad is it?
I resumed my Windows 7 virtualization via Parallels from a more than two-month slumber on my MacBook Pro. Exactly how long had it been? PC Optimizer Pro popped up as soon as I restarted my computer. "Last Scan Performed 79 days ago. May 15, 2013 10:37pm." According to this, I had a lot of work to do: 1,286 items. This broke down into 70 "Invalid Registry Entries," 629 "Junk Files," and 587 pieces of "Internet Junk." But since PC Optimizer Pro is adware itself, I didn't trust it. Earlier, it detected "problems" after a fresh install with almost no other programs, classifying it as "scareware."
Read 35 remaining paragraphs | Comments