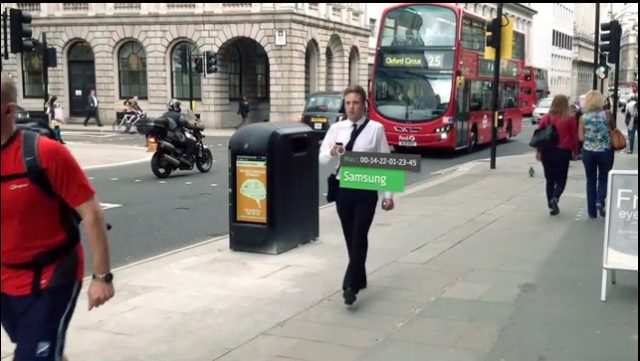 Thursday, when Ars detailed a distributed DIY Stalking network that spied on mobile Wi-Fi users, several readers—such as this one and this one—said the article overstated the real-world threat. We disagreed then, but we're even more convinced of the potential for abuse following reports of the deployment in London of trash cans that track the unique hardware identifier of every Wi-Fi enabled smartphone that passes by.
Renew, the London-based marketing firm behind the smart trash cans, bills the Wi-Fi tracking as being "like Internet cookies in the real world" (see the promotional video below). In a press release, it boasts of the data-collection prowess of the cans' embedded Renew "ORB" technology, which captures the unique media access control (MAC) address of smartphones that belong to passersby. During a one-week period in June, just 12 cans, or about 10 percent of the company's fleet, tracked more than 4 million devices and allowed company marketers to map the "footfall" of their owners within a 4-minute walking distance to various stores.
Unparalleled insight into past behavior
"The consolidated data of the beta testing highlights the significance of the Renew ORB technology as a powerful tool for corporate clients and retailers," the Renew press release states. "It provides an unparalleled insight into the past behavior of unique devices—entry/exit points, dwell times, places of work, places of interest, and affinity to other devices—and should provide a compelling reach database for predictive analytics (likely places to eat, drink, personal habits, etc.)."
Read 7 remaining paragraphs | Comments