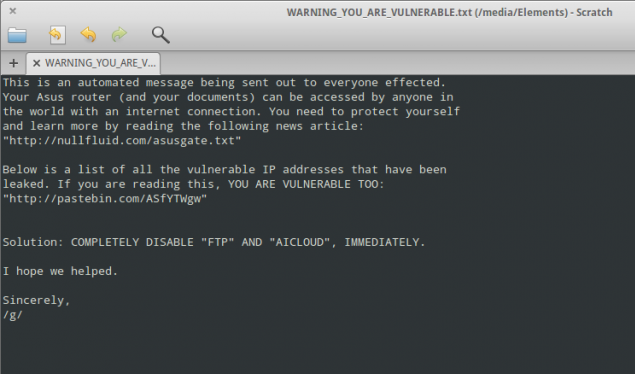 An Ars reader by the name of Jerry got a nasty surprise as he was browsing the contents of his external hard drive over the weekend—a mysterious text file warning him that he had been hacked thanks to a critical vulnerability in the Asus router he used to access the drive from various locations on his local network.
"This is an automated message being sent out to everyone effected [sic]," the message, uploaded to his device without any login credentials, read. "Your Asus router (and your documents) can be accessed by anyone in the world with an Internet connection. You need to protect yourself and learn more by reading the following news article: http://nullfluid.com/asusgate.txt."
It's likely that Jerry wasn't the only person to find the alarming message had been uploaded to a hard drive presumed to be off-limits to outsiders. Two weeks ago, a group posted almost 13,000 IP addresses its members said hosted similarly vulnerable Asus routers. They also published a torrent link containing more than 10,000 complete or partial lists of files stored on the Asus-connected hard drives.
Read 8 remaining paragraphs | Comments