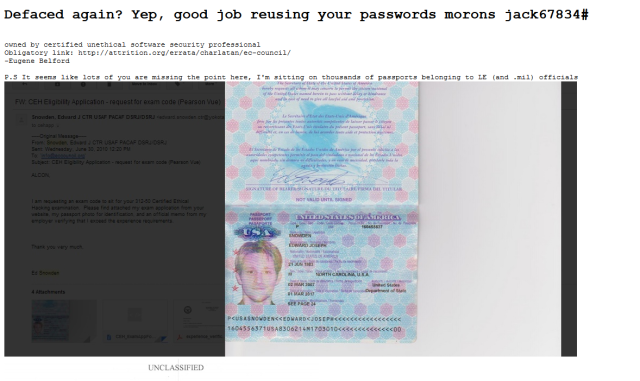 The website for EC-Council, an "International Council of E-Commerce Consultants," was defaced on Sunday evening. The hacker, who went by Eugene Belford (named for the "thieving evil computer genius" from the movie Hackers) also claimed to have found "thousands of passports belonging to LE [Law Enforcement] (and .mil) officials" in the process of breaking into the site.
Eugene Belford wrote on the EC-Council homepage, "Defaced again? Yep, good job reusing your passwords morons jack67834#". With respect to the claim that passport and other information was stolen, the hacker posted a photo of Edward Snowden's passport, along with an e-mail from him to the council from 2010.
EC-Council has long been an administrator of information security certification, and the organization's training programs are sometimes used by employers to get employees up to speed on certain skills. Some of EC-Council's certification programs include Certified Ethical Hacker (CEH), Computer Hacking Forensics Investigator (CHFI), and EC-Council Certified Security Analyst (ECSA)/License Penetration Tester (LPT).
Read 4 remaining paragraphs | Comments