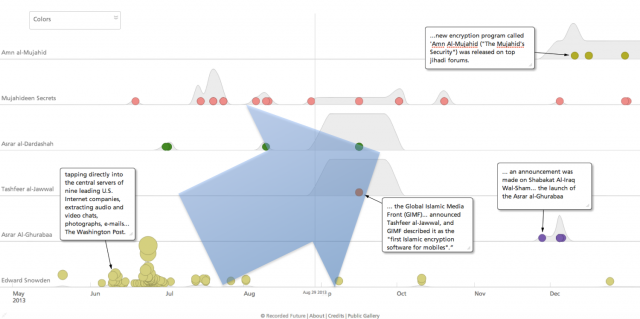 Terrorists loyal to al Qaeda and its offshoots are using new encryption software, most likely in response to revelations that the National Security Agency is able to bypass standard cryptographic protections as part of an expansive surveillance program, according to a recently released report from intelligence firm Recorded Future.
The three new major encryption tools were adopted within a three- to five-month period following leaks from former NSA contractor Edward Snowden, according to the report. The apps replace or bolster the original Mujahideen Secrets crypto program that al Qaeda members have mainly used for e-mail since 2007. One of the new releases, known as Tashfeer al-Jawwal, is a mobile program developed by the Global Islamic Media Front and released in September. A second, Asrar al-Ghurabaa, was released by the Islamic State of Iraq and Al-Sham in November, around the same time the group broke away from the main al Qaeda group following a power struggle. The third program is known as Amn al-Mujahid and was released in December by that Al-Fajr Technical Committee.
The influx of new programs for al Qaeda members came amid revelations that the NSA was able to decode vast amounts of encrypted data traveling over the Internet. Among other things, according to documents Snowden provided, government-sponsored spies exploited backdoors or crippling weaknesses that had been surreptitiously and intentionally built in to widely used standards.
Read 2 remaining paragraphs | Comments