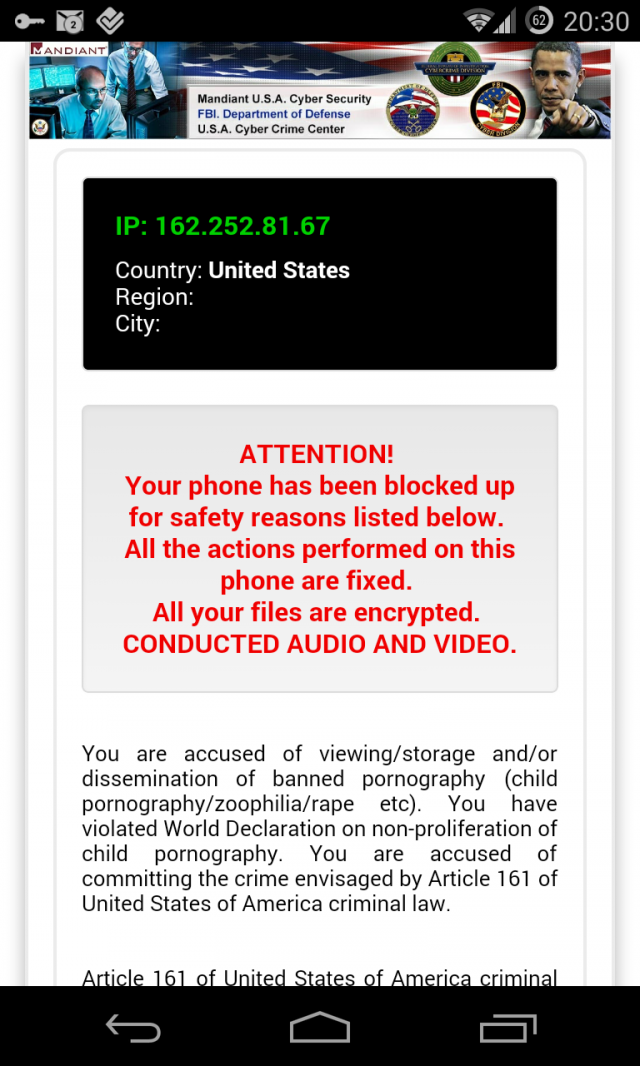 Researchers have uncovered Android-based malware that disables infected handsets until end users pay a hefty cash payment to settle trumped-up criminal charges involving the viewing of illegal pornography.
To stoke maximum fear, Android-Trojan.Koler.A uses geolocation functions to tailor the warnings to whatever country a victim happens to reside in. The screenshot to the right invoking the FBI, for instance, is the notice that's displayed on infected phones connecting from a US-based IP address. People in Romania and other countries will see slightly different warnings. The malware prevents users from accessing the home screen of their phones, making it impossible to use most other apps installed on the phone. The normal phone functions in some cases can be restored only when the user pays a "fine" of about $300, using untraceable payment mechanisms such as Paysafecard or uKash.
The discovery of Koler.A comes 18 months after researchers from Symantec found that so-called ransomware extorts an estimated $5 million a year from users of traditional PCs. Ransomware refers to malware that disables computers and demands that cash payments be paid to purported law-enforcement agencies before the machines are restored. More recently, ransomware scammers upped their game by building strong cryptography into malware, known as Cryptolocker, that holds entire hard drives hostage until end users pay a Bitcoin ransom of $300.
Read 4 remaining paragraphs | Comments