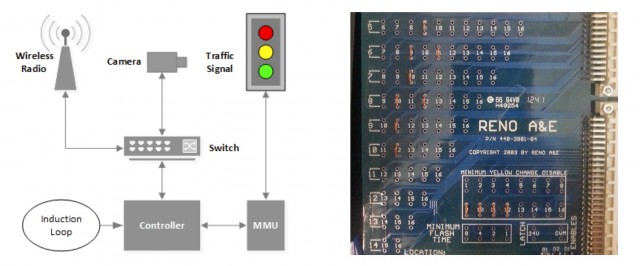 Taking over a city's intersections and making all the lights green to cause chaos is a pretty bog-standard Evil Techno Bad Guy tactic on TV and in movies, but according to a research team at the University of Michigan, doing it in real life is within the realm of anyone with a laptop and the right kind of radio. In a paper published this month, the researchers describe how they very simply and very quickly seized control of an entire system of almost 100 intersections in an unnamed Michigan city from a single ingress point.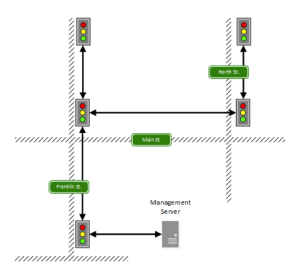 The exercise was conducted on actual stoplights deployed at live intersections, "with cooperation from a road agency located in Michigan." As is typical in large urban areas, the traffic lights in the subject city are networked in a tree-type topology, allowing them to pass information to and receive instruction from a central management point. The network is IP-based, with all the nodes (intersections and management computers) on a single subnet. In order to save on installation costs and increase flexibility, the traffic light system uses wireless radios rather than dedicated physical networking links for its communication infrastructure—and that's the hole the research team exploited.
Wireless security? What's that?
The systems in question use a combination of 5.8GHz and 900MHz radios, depending on the conditions at each intersection (two intersections with a good line-of-sight to each other use 5.8GHz because of the higher data rate, for example, while two intersections separated by obstructions would use 900MHz). The 900MHz links use "a proprietary protocol with frequency hopping spread-spectrum (FHSS)," but the 5.8GHz version of the proprietary protocol isn't terribly different from 802.11n.
Read 11 remaining paragraphs | Comments