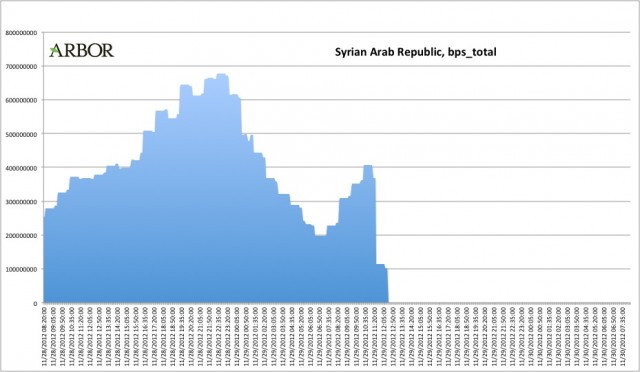 In a Wired interview with well-known National Security Agency journalist James Bamford that was published today, Edward Snowden claimed that the US accidentally took most of Syria off the Internet while attempting to bug the country's traffic. Snowden said that back in 2013 when he was still working with the US government, he was told by a US intelligence officer that NSA hackers—not the Assad regime—had been responsible for Syria's sudden disconnect from the Internet in November and December of 2012.
The NSA's Tailored Access Office (TAO), Snowden said, had been attempting to exploit a vulnerability in the router of a "major Internet service provider in Syria." The exploit would have allowed the NSA to redirect traffic from the router through systems tapped by the agency's Turmoil packet capture system and the Xkeyscore packet processing system, giving the NSA access to enclosures in e-mails that would otherwise not have been accessible to its broad Internet surveillance.
Instead, the TAO's hackers "bricked" the router, Snowden said. He described the event as an "oh shit" moment, as the TAO operations center team tried to repair the router and cover their tracks, to no avail.
Read 3 remaining paragraphs | Comments