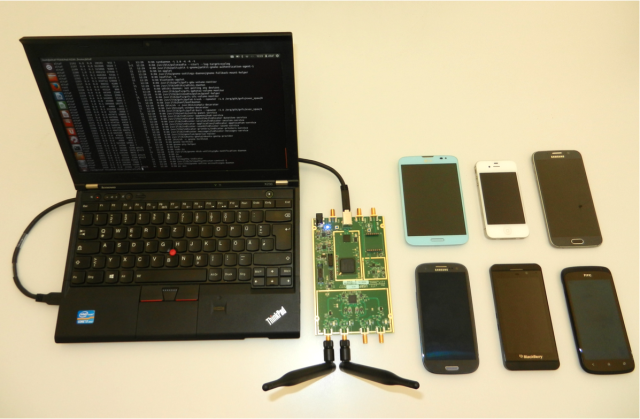 Researchers have devised a low-cost way to discover the precise location of smartphones using the latest LTE standard for mobile networks, a feat that shatters widely held perceptions that it's immune to the types of attacks that targeted earlier specifications.
The attacks target the LTE specification, which is expected to have a user base of about 1.37 billion people by the end of the year. They require about $1,400 worth of hardware that run freely available open-source software. The equipment can cause all LTE-compliant phones to leak their location to within a 32- to 64-foot (about 10 to 20 meter) radius and in some cases their GPS coordinates, although such attacks may be detected by savvy phone users. A separate method that's almost impossible to detect teases out locations to within an area of roughly one square mile in an urban setting.
The researchers have devised a separate class of attacks that causes phones to lose connections to LTE networks, a scenario that could be exploited to silently downgrade devices to the less secure 2G and 3G mobile specifications. The 2G, or GSM, protocol has long been known to be susceptible to man-in-the-middle attacks using a form of fake base station known as an IMSI catcher (like the Stingray). 2G networks are also vulnerable to attacks that reveal a phone's location within about 0.6 square mile. 3G phones suffer from a similar tracking flaw. The new attacks, described in a research paper published Monday, are believed to be the first to target LTE networks, which have been widely viewed as more secure than their predecessors.