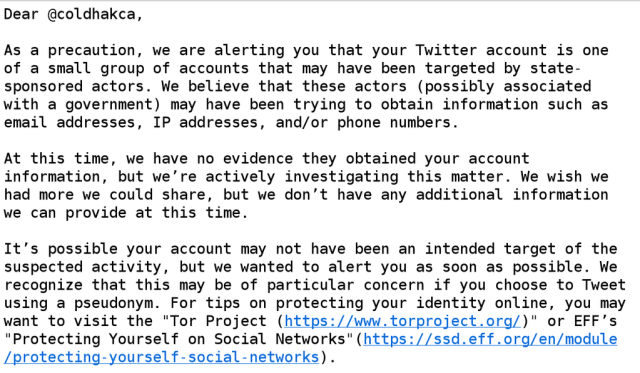 Twitter has warned dozens of users that their account data may have been targeted by state-sponsored hackers.
In e-mails sent to security researchers, journalists, and activists over the past few days, Twitter officials said there's no evidence the attacks were successful. Still, the messages said Twitter officials are actively investigating the possibility that the accounts were breached. Dozens of users have reported receiving the advisory, with this list showing 36 people and this one listing 32 users.
"As a precaution, we are alerting you that your Twitter account is one of a small group of accounts that may have been targeted by state-sponsored actors," one e-mail warned. "We believe that these actors (possibly associated with a government) may have been trying to obtain information such as e-mail addresses, IP addresses and/or phone numbers."