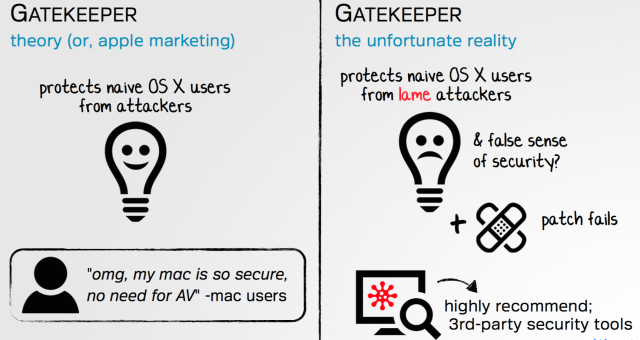 In September, Ars reported a drop-dead simple exploit that completely bypassed an OS X security feature known as Gatekeeper. Apple shipped a fix, but now the security researcher who discovered the original vulnerability said he found an equally obvious work-around.
Patrick Wardle said the security fix consisted of blacklisting a small number of known files he privately reported to Apple that could be repackaged to install malicious software on Macs, even when Gatekeeper is set to its most restrictive setting. Wardle was able to revive his attack with little effort by finding a new Apple trusted file that hadn't been blocked by the Apple update. In other words, it was precisely the same attack as before, except it used a new, previously unblocked Apple-trusted file. Notably, that file was offered by security company Kaspersky Lab. Late on Thursday, Apple released an update blocking that file, too.
"It literally took me five minutes to fully bypass it," Wardle, who is director of research of security firm Synack, told Ars, referring to the updated Gatekeeper. "So yes, it means that the immediate issue is mitigated and cannot be abused anymore. However the core issue is not fixed so if anybody finds another app that can be abused we are back to square one (full gatekeeper bypass)."