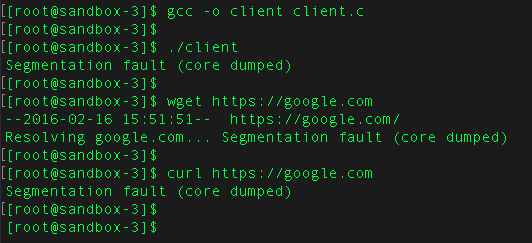 Researchers have discovered a potentially catastrophic flaw in one of the Internet's core building blocks that leaves hundreds or thousands of apps and hardware devices vulnerable to attacks that can take complete control over them.
The vulnerability was introduced in 2008 in GNU C Library, a collection of open source code that powers thousands of standalone applications and most distributions of Linux, including those distributed with routers and other types of hardware. A function known as getaddrinfo() that performs domain-name lookups contains a buffer overflow bug that allows attackers to remotely execute malicious code. It can be exploited when vulnerable devices or apps make queries to attacker-controlled domain names or domain name servers or when they're exposed to man-in-the-middle attacks where the adversary has the ability to monitor and manipulate data passing between a vulnerable device and the open Internet. All versions of glibc after 2.9 are vulnerable.
Maintainers of glibc, as the open source library is called, released an update that patches the vulnerability. Anyone responsible for Linux-based software or hardware that performs domain name lookups should install it as soon as possible. For many people running servers, patching will be a simple matter of downloading the update and installing it. But for other types of users, a fix may not be so easy. Some apps that were compiled with a vulnerable version of glibc will have to be recompiled with an updated version of the library, a process that will take time as users wait for fixes to become available from hardware manufacturers and app developers.