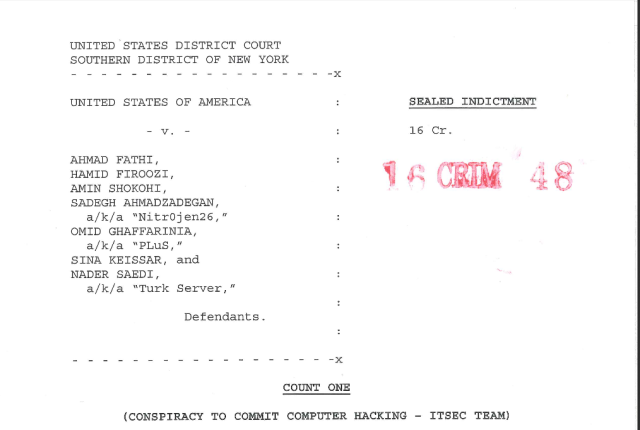 US Attorney General Loretta Lynch, FBI Director James Comey, and other Justice Department officials announced today that a federal grand jury had issued indictments for seven Iranians employed by two information technology companies. The indictments allege that the companies were contracted by the Iranian government to conduct cyber attacks against bank websites in the US and carry out intrusion into the supervisory control and data acquisition (SCADA) network of a dam near Rye, New York.
In a press conference announcing the indictments, Lynch said, "Today, we have unsealed an indictment against seven alleged experienced hackers employed by computer security companies working on behalf of the Iranian government, including the Islamic Revolutionary Guard Corps. A federal grand jury in Manhattan found that these seven individuals conspired together, and with others, to conduct a series of cyberattacks against civilian targets in the United States financial industry that, in all, cost victims tens of millions of dollars."
The seven worked at ITSecTeam (ITSEC) and Mersad Company, both based in Iran. The companies are alleged to be contracted by the Iranian government and the Iranian Revolutionary Guard to conduct a range of network intrusions and attacks, including distributed denial of service campaigns against the websites of several US banks. The DDoS attacks, which started sporadically in December 2011, continued into September 2012—when attacks were ramped up to a "near-weekly basis,' the indictment states. At their peaks, the DDoS attacks reached 140 gigabits per second.