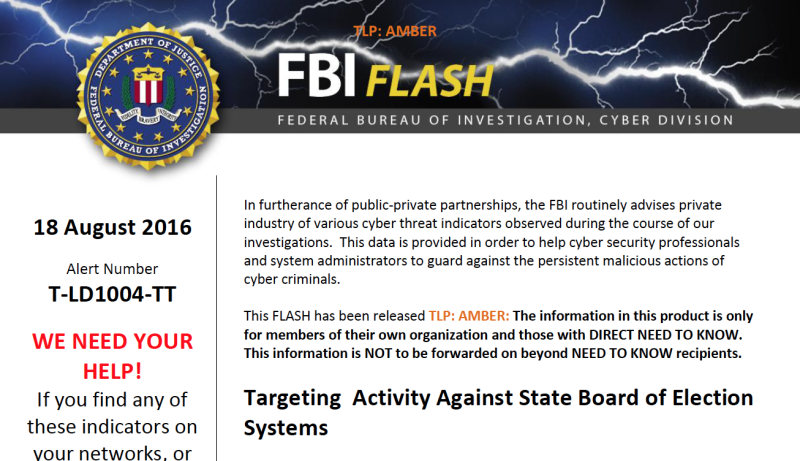 Someone using servers in the US, England, Scotland, and the Netherlands stole voter registration from one state's Board of Elections website in June and  attacked another state's elections website in August, according to a restricted "Flash" memorandum sent out by the FBI's Cyber Division. The bureau issued the alert requesting other states check for signs of the same intrusion.
The "Flash" memo, obtained by Yahoo News, was published three days after Secretary of Homeland Security Jeh Johnson offered state officials assistance in securing election systems during a conference call. According to Yahoo's Michael Isikoff, government officials told him that the attacks were on voter registration databases in Illinois and Arizona. The Illinois system had to be shut down in July for two weeks after the discovery of an attack; the registration information of as many as 200,000 voters may have been exposed. No data was stolen in the Arizona attack, but malware was reportedly planted on the site.
While saying the Department of Homeland Security was unaware of any specific threat to election systems, Johnson offered states assistance from the National Cybersecurity and Communications Integration Center (NCCIC) "to conduct vulnerability scans, provide actionable information and access to other tools and resources for improving cybersecurity," a DHS spokesperson said, describing the conference call. "The Election Assistance Commission, NIST, and DOJ are available to offer support and assistance in protecting against cyber attacks."