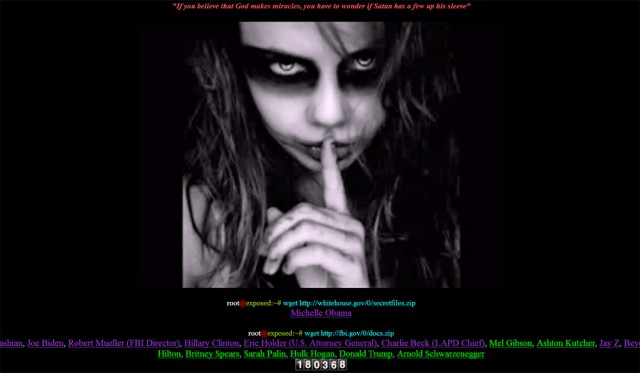 Identity thieves have posted social security numbers, credit information, and other sensitive data belonging to more than a dozen politicians and celebrities. It's a list that includes Vice President Joe Biden, FBI Director Robert Mueller, former Secretary of State Hillary Clinton, rapper Jay Z, and actor and director Mel Gibson.
The website, exposed.su, surfaced on Monday with birth dates, telephone numbers, home addresses, and in some cases credit reports for a handful of politicians and celebrities. Throughout the past 24 hours the site has published details on additional individuals. Social security numbers for Mueller, Jay-Z, and Gibson appeared to be valid, the Associated Press reported. Los Angeles Police Chief Charlie Beck, whose information was also posted on the site, hasn't challenged the accuracy, either. Still, other journalists wrote that phone numbers purportedly belonging to former California Governor Arnold Schwarzenegger and actor Ashton Kutcher reportedly went to a movie production company and a New York-based accounting firm respectively.
The site included the image of a gaunt young woman with black circles around her eyes and an index finger in front of her lips. It was headed by a quote from the Showtime TV series Dexter, in which the title character says, "If you believe that God makes miracles, you have to wonder if Satan has a few up his sleeve." The site included an embarrassing or humorous photo related to each individual whose information was disclosed. The act of publicly documenting the private details of people is known as "doxxing," and it came into vogue a few years ago with the growing visibility of the Anonymous hacking collective.
Read 2 remaining paragraphs | Comments