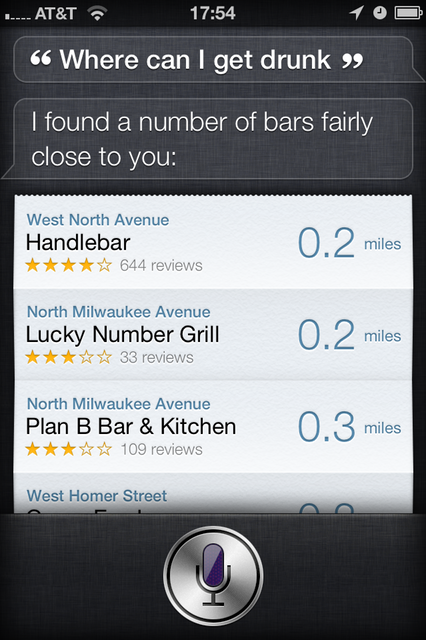 Remember that time when you asked Siri about the nearest place to find hookers? Or perhaps the time you wanted to know where to find the best burritos at 3am? Whatever you've been asking Siri since its launch in late 2011 is likely still on record with Apple, as revealed by a report by our friends at Wired on Friday. Apple spokesperson Trudy Muller told Wired that Apple stores Siri queries on its servers for "up to two years," though the company says it makes efforts to anonymize the data.
"Apple may keep anonymized Siri data for up to two years," Muller said. "Our customers' privacy is very important to us."
Why does Apple have your Siri queries on record in the first place? Remember, Siri doesn't just operate locally on your iPhone or iPad—when you ask it a question, your voice query is sent to Apple's servers for processing before the answer—a Google search, an answer from Wolfram alpha, a Yelp result, etc.—is sent back. That's why an Internet connection is required in order to use Siri; if you have no Wi-Fi or cellular signal, you can't use Siri to perform any actions.
Read 4 remaining paragraphs | Comments