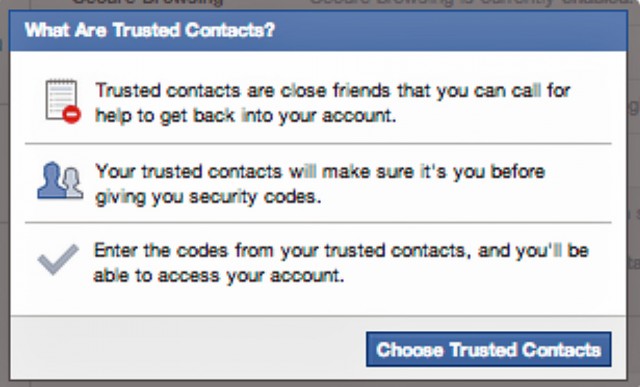 If you've ever forgotten an important password, Facebook has an innovative solution for you. On Thursday, engineers with the social network rolled out a new(ish) feature that helps users regain control of an account after being locked out of it.
The concept behind Trusted Contacts is the same idea behind giving a trusted friend or neighbor a copy of your house key. If you lose yours, you can always count of one of them to help you get back inside. The Facebook feature actually requires the help of multiple separate trusted friends designated in advance. If a user forgets her password or is otherwise locked out of an account, she can request that Facebook send different one-time security codes to up to five friends. Once the user supplies three of the security codes sent, Facebook will reset the account password.
"So your trusted contacts can be sure it's you trying to access your account, it's best to talk to them over the phone or in person," a Facebook blog post published Thursday advises. "Someone else can impersonate you through e-mail, chat, or text messages, or hack and read your messages."
Read 3 remaining paragraphs | Comments