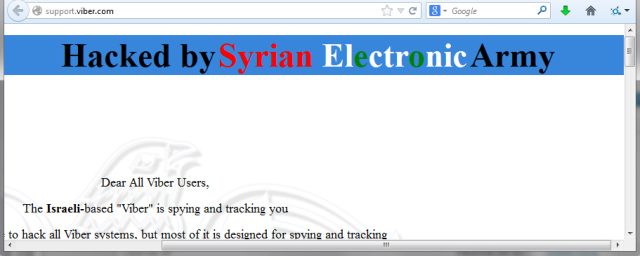 The online helpdesk for Viber, an instant-messaging and VoIP service, was defaced by pro-Syrian hackers who claimed to have accessed e-mail addresses, phone numbers, and other personal information belonging to the company's users and employees.
The defaced page bore a blue banner that read "Hacked by the Syrian Electronic Army," a reference to the pro-hacking crew that regularly breaches online accounts in the name of Syrian President Bashar al-Assad. In recent months, the group has accessed Twitter or website accounts belonging to the Financial Times, the Associated Press, The Guardian, The BBC, and Al Jazeera, to name just a few. More recently, it has reportedly breached accounts belonging to chat app developer Tango and the online news portal Daily Dot.
"We weren't able to hack all Viber systems, but most of it is designed for spying and tracking," the SEA wrote of the Israel-based company on its support.viber.com subdomain. The tampered page also included a large image purporting to show the IP addresses, e-mail addresses, and other details belonging to people who had accessed the company's servers. A little while later, the defacement was replaced with a simple "403 Forbidden" error message. At publication time, the helpme.viber.com page carried the same message.
Read 2 remaining paragraphs | Comments