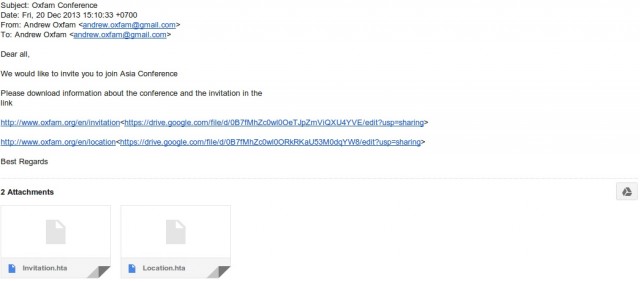 The Electronic Frontier Foundation has published details of an attempted malware attack on two of its employees by a group of hackers associated with the Vietnamese government. The hacker group, known as Sinh Tử Lệnh, has targeted Vietnamese dissidents and bloggers in the past; it now appears that the campaign has been extended to attacks on US activists and journalists who publish information seen as critical of the Vietnamese government.
The Vietnamese government has gone after bloggers in its own country before, and as of last year it had jailed 18 independent journalists—bloggers being the only journalists in the country not affiliated with state-run media. And since 2009, the hacker group has taken that campaign beyond Vietnam's borders, targeting members of the Vietnamese diaspora critical of the Hanoi regime.
In December, two staff members of the EFF received e-mails from someone claiming to be from Oxfam International, inviting them to "Asia Conference." The e-mail, from a Gmail address for "Andrew Oxfam," appeared to have been sent to a list and included links to two documents that appeared to be information on the conference shared over Google Drive.
Read 2 remaining paragraphs | Comments