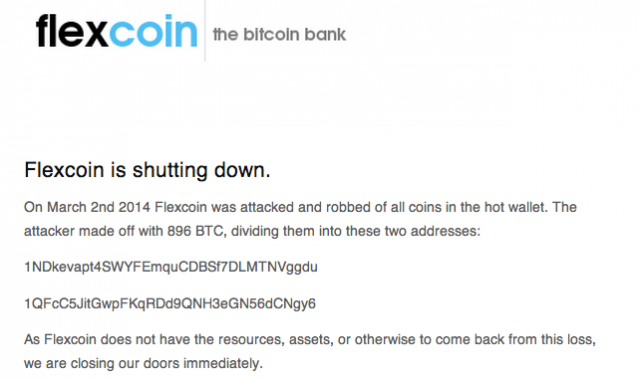 Flexcoin, which proclaimed itself to be the "world's first bitcoin bank" and the solver of "nearly every problem that exists with the Bitcoin currency today," says it has shut down after a robbery. An attacker made off with 896 bitcoins, the equivalent of about $620,000 at today's exchange rates.
A statement on Flexcoin's website read as follows:
On March 2nd 2014 Flexcoin was attacked and robbed of all coins in the hot wallet. The attacker made off with 896 BTC, dividing them into these two addresses:

1NDkevapt4SWYFEmquCDBSf7DLMTNVggdu

1QFcC5JitGwpFKqRDd9QNH3eGN56dCNgy6

As Flexcoin does not have the resources, assets, or otherwise to come back from this loss, we are closing our doors immediately.
The "hot wallet" is what exchanges use to pay out withdrawals instantly. Bitcoins deposited by users are put into "cold storage." Flexcoin said it will help these users get their coins back. "Users who put their coins into cold storage will be contacted by Flexcoin and asked to verify their identity," the bank said. "Once identified, cold storage coins will be transferred out free of charge. Cold storage coins were held offline and not within reach of the attacker."
Read 5 remaining paragraphs | Comments