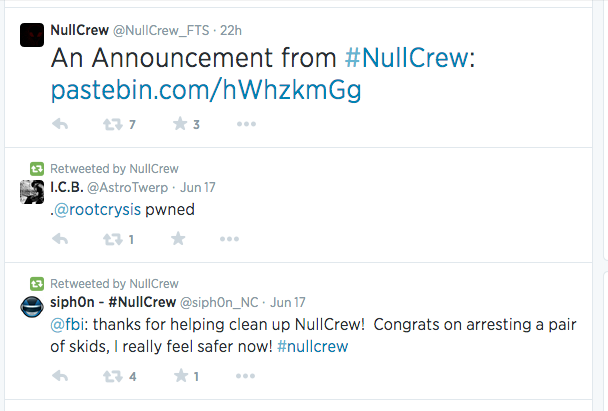 Continuing variations on a theme, the FBI has arrested yet another alleged "hacktivist" based on information provided by a confidential informant. This time, FBI agents from the bureau's Chicago field office nabbed Timothy Justin French, who the Justice Department claims was a member of a group called NullCrew. Another alleged NullCrew member, a juvenile offender, was arrested by the Royal Canadian Mounted Police based on information passed by the FBI.
Based on a statement from a member of NullCrew who remains at large, the arrests weren't a big surprise. Calling French and the other hacker "skids" (script kiddies), the NullCrew member mocked their poor operational security and failure to cover their own digital tracks. And in a reference to the LulzSec case, the poster said that French missed "what should've been the most fucking obvious thing ever: don't let just any asshole in the crew, and don't give them the keys to the fucking kingdom. The FBI got someone to get you fuckers, and you deserved it. I've already taken care of that little problem—if it walks like Sabu and talks like Sabu..."
French, who the FBI claims is known by the usernames "Orbit," "crysis," and a number of other IRC, Skype, and Twitter handles, was arrested on June 11 at his home in Morristown, Tennessee. He is accused, along with other members of NullCrew, of launching "computer attacks that resulted in the release of computer data and information, including thousands of username and password combinations," according to a statement issued by the Justice Department.
Read 3 remaining paragraphs | Comments